Apparently, frugal living is a huge thing, yes it is my friends, all that wartime spirit of Make-Do-And-Mend is back with a vengeance. On Pinterest you can discover lovely little pictures of attractive little books by people who have written on thrifty living, and links to bloggers who write on their favourite subject and more.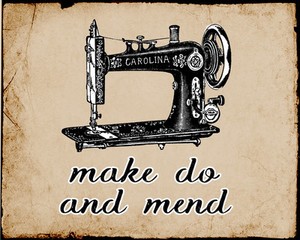 There's information about how you can make money including such 'gems' as crafting your own candles or wreaths and selling them at an open-air fayre in summer. There are ideas for 'up-cycling' old furniture. Then there are the suggestions for making accessories from other things. TV and radio shows giving hints and tips for so-called 'small gardens'.
But hold on there a moment. You know what my problem with all this is? It isn't really frugal living. It's a trend that seems to be perpetuated by, either, white middle-class folk or those on a not too bad income in the first place.
I look at the photos and the finished products, read the process for making said items and discover that 9 times out of 10, something had to be purchased beforehand to disassemble and reassemble into it's new 'frugally inspired' form. (Not to mention, some of the so-called arts and crafts are shit)
Many sites, blogs and books are directed at American readers. Now I have to say this before I charge ahead – Americans are extremely appreciative of home-made stuff, whether it's food, clothing or crafts. They are mad about collecting coupons, and therefore get some great bargains. My friend went to live there about 15 years ago, and one of the first things she did was join a glass crafting class – for free! She made me little Christmas tree ornaments! What I gather from watching American TV shows and my one visit, is that Americans love to go to craft fairs or markets – what is a Pottery Barn?! buy local produce, support small local town events – not so the Brits.
We are suspicious, cynical and reserved – generally speaking. "What, she made it? Couldn't she just go and buy one, it'd look much nicer?!" Suspicious. "Oh really? That's a lovely idea!"(Whilst catching the eye of another person who accidentally found themselves at a craft fayre) Cynical. "Maybe next time." Reserved.
Also, we simply do not have the weather in the UK for any of those day long, outdoor, hippy-inspired, retro craft fairs. As soon as your table is up, it pisses down.
When I look for something to help with my frugal life, picture me sitting with my arms crossed, looking like Ron Swanson not being amused by a cheap, untalented clown. I'm going to present a suggestion list for real frugal living. I'm talking about an income of £15,000 p.a(or less) – that's 19,547.93 United States Dollars my American friends – for a family of 3.
Rules for frugal living in the UK – from someone who lives it
1. DON'T SPEND WHAT YOU HAVEN'T ALREADY GOT!
2. Get a plot on an allotment. If you work at it, you can grow enough crops to supply your family with fruit and veg from spring to Christmas.
3. Keep an eye out for skips. Yes I mean those ugly, yellow dumpsters outside of people's homes where they pile what they don't want – you might find something you can really renovate and utilise.
4. Don't buy expensive paint when redecorating – buy cheap and add test pot colours to alter the shade. Additionally, you might find that your walls just need a wash with sugar soap.
5. Use the Freecycle Network. Give stuff and get stuff for free!
6. Charity shops – use them. Stop whining that you don't want to wear jeans someone else has worn. You drink water someone else has already drunk and peed out again. Over and over. Besides, all charity shops wash or steam their clothes.
7. Learn DIY. At least one person in every household should be able to drive a nail into wood or a screw into the wall. Preferably both.
8. Always make a list when you go shopping, and stick to it. Lookout for offers – and do not get fooled by promotional campaigns; Buy One Get One Free does not always work out cheaper; read the cost per weight on the shelf price. Stop buying ready meals and pre-processed food. Fresh is best for your purse and your family's health.
9. Get over the idea of always having new things and make stuff for friends and family for special occasions. Accept hand-made items from friends and family.
10. DON'T SPEND WHAT YOU HAVEN'T ALREADY GOT!
I think that should do it.