Currently – On Netflix (UK)
Starring – Ted Danson, Kristen Bell
Genre – Fantasy Comedy
Writer – Michael Schur.
Premiered – September 19, 2016, on NBC
**Spoiler Alert**
(Today I can at least promise none of my usual bad language!)
I'm late to the party again – I know! To be honest, I had avoided watching this show on Netflix as the accompanying promotional image looked, well, like another one of those slightly 'kooky', American woman things. It didn't pique my interest enough.
Then I watched the first season. Then I watched the first season again with hubby in tow, and we completed the two seasons – watching two or three an evening.
A quick synopsis –
A young woman, Eleanor Shellstrop wakes up in the afterlife. She is informed by Michael, that this is The Good Place. It is a Heaven-like utopia, that he designed, in reward for her having lived a good life. Everyone here as done something amazing when they were alive. However, Eleanor realises that she was sent there by mistake and must find a way to keep her true, morally reprehensible past a secret. Enter Chidi – her carefully selected after-life soul mate, who was a moral philosophy professor when alive. Can Chidi help to improve Eleanor?
The Good Place is well-written entertainment, as well as being quite thought provoking – what better way to get people to consider the ethical and /or moral considerations of our actions, than through the use of humour?
The use of names is interesting –
Michael – means 'who is God?'. Was also an archangel.
Chidi – means "God exists" in Igbo (West African)
Eleanor – meaning 'light', or 'bright shining one'. (Latin)
Tahani – 'congratulations' or 'best wishes' in Arabic.
Jason – comes from the Greek for 'healer'.
And although it is not necessary; I personally find the origins of names interesting, the selection of these names does add to the overall 'plan' of the writer and the show.
The humour arises from a number of contrivances:
Firstly, no-one can swear in The Good Place, so Eleanor's profanities end up as, fork, shirt, dink, ash hole and motherforker.
Chidi is morally bound (by his own morals!) to assist Eleanor – regardless of how much she tries to take the easy route, and this causes him pain, "I'm getting a stomach ache. I'm in a perfect utopia, and I'm… I have a stomach ache. This is awful."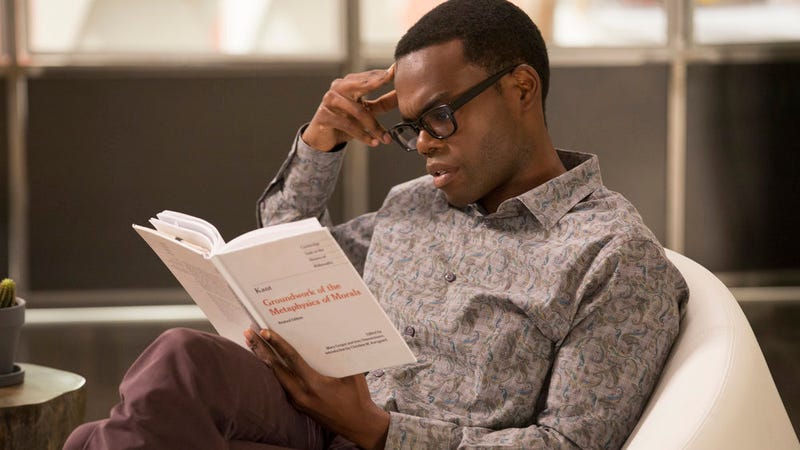 Eleanor's neighbour is a once wealthy, British socialite, who seems to be the only person with a dissimilar accent, "I also dabbled in some other professions. I was a model, a museum curator, an "It Girl," and… oh, I was Baz Luhrmann's muse for a while. That was quite fun."
And then there is Janet. I have to say, Janet is my favourite character – she is a human shaped data base, "Not a girl.". She works with Michael; the Architect, and is all-knowing, "Fun Fact: Columbus is in The Bad Place because of all the raping, slave-trade and genocide."
But the real humour comes from the moral and ethical arguments put forward by the various characters and situations. We're all pretty familiar with the 'trolley/train problem', well imagine doing it for real! Who really does belong in 'the good place'? Are our deeds counted and assessed by an all-knowing being? If you choose to ignore the 'small voice' (your conscience), are you going to the bad place? (Motherforker! That's me done for!)
And then there's Michael, he's …
Nah, I'm going to let you watch it and decide for yourself whether you think The Good Place is good, or not?!
I'm giving The Good Place 4 stars